Overview
Updated On:
August 23, 2021
This property offers the best of both worlds – a private retreat, stream, and convenient access to everyday essentials! 
This quiet retreat offers you access to the property via the well-maintained Clover Mill Road. It also offers a few clearings where the property was once logged.
The old logging road running through the property offers you the opportunity to choose where you want to Camp, Hunt, Plant a Garden, or just Explore and enjoy the quiet and natural beauty of Maine!
Blueberries and raspberries fare abundant along the old logging trail. With some clearing of trees, this parcel offers several lovely locations for an RV/Camper, Hunting Cabin, OR use the property for this can be your Private Hunting/Bird Watching/Nature-Loving Retreat!
The options are endless!
This gem is approximately 10 minutes to downtown Farmington and Super Walmart, a variety of other shops, and dining options from The Farmhouse Beer Garden, The Homestead Kitchen, Bar & Bakery, The Brickyard Cafe, and Dunkin' Donuts – just to name a few!

Come and enjoy the great outdoors year-round and use this land as a base camp to enjoy everything Maine has to offer. 

From Hiking, Biking, Skiing, Fishing, Hunting, and the area's many attractions. What's not to love?

If you're looking for a weekend getaway or seasonal vacation spot.

This property offers the best of both worlds – a private retreat with quick and convenient access to everyday necessities. 
Call us and find out how easy it is to own this beautiful retreat and begin building dreams that will last a lifetime. the choices are endless, and if you prefer to kick back, relax and enjoy your own quiet retreat you can do that too! 
Click here to see the property on Google Maps
Property Details:
APN: Farn-000000-R000014-000036-A000000
Tax Map/Lot:  R14-036-A
Property Type: Vacant Land
Address: Clover Mill Rd, Farmington, ME 04938
Driving Directions: Driving Directions – Clover Mill Rd Farmington Maine
Lot Size:  23 Acres
County: Franklin County
Zoning: Farm and Forest District (Located on the Farmington Town Line)
Terrain:  Varied Terrain
Power:  In Road 
Water:  Well will be needed
Sewer: Septic will be needed
Roads:  Paved
Title Info: Clear Title via Special Warranty Deed or General Warranty Deed if closed with a title company
Annual Property Taxes (Approx):  $296.00
Terms:  Cash Sale – Buyer to pay documentation or Closing costs if closed with a title company
GPS Coordinates:
Approximate Front Middle: 44.680389, -70.209306 
Google Maps Link
No Restrictions!
Stick-built, Modular, Mobile, Tiny Homes – Allowed
RV's\Camping – Allowed
The Area:
Franklin County – located in west-central Maine, was formed from towns and land previously belonging to Kennebec, Oxford, and Somerset counties on May 9, 1838.  The county extends from Chesterville, New Sharon, and Farmington in the south, to Coburn Gore and Gorham Gore bordering the province of Quebec in the north. Its 1,700 square miles include a campus of the University of Maine, ski resorts, and a portion of the Appalachian Trail.
Farmington is a lively college town, tucked into the woody foothills of Maine's western mountains. It's also a perfect gateway if you're looking for some outdoor fun.  Much of Farmington's downtown is historic and has been renovated into great little shops, stores, and restaurants. Check out the Sugarwood Gallery, featuring works of Maine artists and artisans, and Twice Sold Tales, a long-popular local book shop. Find out more by strolling through a historic walking tour. If you visit in September, go to the annual Farmington Fair, hosted in a historic fairground. It's been staged since 1840. In December, check out Chester Greenwood Day, a lighthearted celebration of the local guy who invented earmuffs (you read that right). There's a parade and lots of other events.
Property Id : 21404
Price: $ 38,700
Property Lot Size: 23 ac
Structure Type: Land
Floors No: 0
Status: Sold
State: Maine
Other Agents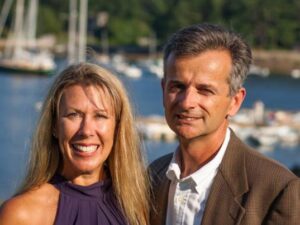 Owner
LandWish.net is a division of Mohegan Real Estate, LLC and is owned locally by Kathie and
...